I should have closed my eyes and dozed off. There was a mild, slightly cool breeze, I could hear waves lapping below my feet, and most important…wait for this…I had nothing to do. That's right, you heard it right. We were travelling, and I had nothing to do. But more on that later.
For now, let's focus on the reasons I couldn't sleep. Well, for one – there was the most gorgeous blue green water around me, and it seemed like sacrilege to shut my eyes for even two minutes, when there was such beauty around. Second, I was on my third cocktail, and it was just late afternoon, and the kindly waiter was pushing me to try another one…apparently, it was unlimited cocktails (Yep, that's right too). Third, well – I couldn't doze off when the hubby was happily chattering away to glory, could I?
Yes, all this seems quite different from our usual trips. And it was. Usually, there's too many places to see, and too little time, and you really want to squeeze in every bit of experience into the limited time you have. I don't think I have ever, and I mean – ever- had an afternoon nap on a holiday. When I first traveled with the girls, I would sometimes wish for a brief respite..a break from all the experiences that were bombarding me. Then as I started travelling alone – first on work, and then as solo travel – I understood that you only need a break when you don't enjoy what you are doing. And then of course having married a man, who just couldn't manage to sit still for a minute, we were always "doing things, or going places". So even on beach holidays, it was never lazing, or never …vegetating. So yes, this was different.
We were in Hurghada, Egypt. More precisely, we were in the Bella Vista bar, which was part of the Desert Rose resort on the Red sea. And it was beautiful. Don't believe me? Have a look.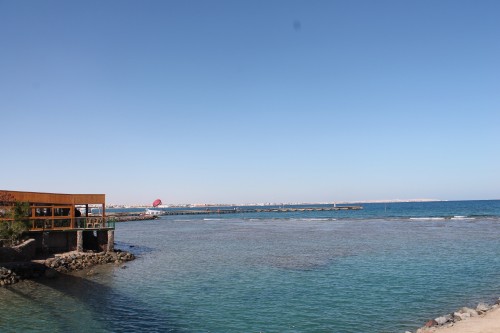 So how did we end up here? Okay, we have stayed in 5 star places before, but this was slightly different. This time we had taken something called as the "all-inclusive deal". Okay, I know a lot of you are already aware of this, but I have been very ignorant about things like this. Half-board and full-board I know, but all inclusive meant all meals and all drinks included with your room rate. Now we had just spent a week pinching pennies in Jordan, and to suddenly come to a place where you could eat all you want and drink you want, without doing any mental mathematics – was beyond awesome. And we went berserk.

So Desert Rose had 7 restaurants and 11 bars, a discotheque, evening shows, a water theme park, and all of these were included in our package. In spite of our huge appetites and our determination, we could only eat at 4 of restaurants, and drink at 4 of the bars. We discovered that there's a limit to how much you can stuff your body, and there's a limit to sloth. Unfortunately!
Three full days in a resort – swimming, eating and drinking. Nothing more! And so our days passed in a haze of sloth, gluttony and a profound appreciation for both!
Of course, we reverted back to our cheap ways soon, and were soon back to "travelling" again. Travel with all it's unhurried pace and it's million experiences! But I have to admit – the occasional "all-inclusive deal" with it's blank slate of bliss has its attractions!
If you do want to indulge in same sloth as I did:
Getting there:
Desert Rose is in Hurghada, a ten minute drive away from Hurghada airport. Egypt air has flights from Cairo; you could also fly with a number of other middle-eastern carriers.
Or you could take a bus from Cairo to Hurghada like we did. Its a 5-6 hour drive and it's best to take an overnight bus. Go Bus is known as the most reliable bus company in Egypt, so I would recommend them.
Things to do:
If you really don't want too much sloth, there's actually a lot of things to do. Snorkeling, diving, quad bike riding, camel rides in the desert. The resort arranges for all of these, and the prices are actually quite reasonable.
Stay:
Desert Rose is a huge resort with almost 900 rooms. We took a sea facing room and it was totally worth it. Waking up in the morning to a deep blue sea and swaying palms is really cool. Yes, we were worried that it will be a very crowded place, but it wasn't really. The resort is spread across several acres and there just seems to be enough space for everybody.
Eat:
So this was the first place I have visited where you can eat for 24 hours. Really! They have an early breakfast, late breakfast, lunch, late lunch, snack, dinner, late dinner, midnight dinner, and late snacks strategy. The idea as they very kindly explain is, "you are on holiday and we wouldn't want you to get hassled by strict timings – you can do whatever you want, sleep whenever you want, and you will always have food when you get hungry!". What kindness! 😀 There's one restaurant (The Palms) where you would get all your buffer meals, but in addition to this, you could also choose to visit the other specialty restaurants (Mexican, Lebanese, Italian, sea food etc) and eat as much as you want! However, you would need to reserve a table a day in advance for any of these restaurants.