I know! I know! There's a heat wave on in Europe, and it's really hot, and there's going to be tons of tourists, and prices are really high – and a million other reasons not to go. And there's just one reason to go – It IS Europe! and if you know anything about me, you know how partial I am to Europe. 🙂
But on a serious note, as much as there's an element of familiarity, there's quite a lot of new elements to this trip. First of all, this time I have a new travel partner! So yes, it's not my ex-roomies, it's not the hubby, and it's not solo travel. The new travel kid on the block is my cousin – Nisha or "Nisha chechi" as I call her. So over the past couple of years, we have been having a couple of conversations on Europe, and how it should be fun to explore together, but it never really came together. And then suddenly this year, everything fell into place. I was planning to do my annual solo trip, Nisha chechi had come home for dinner with her family, the hubby suggested that she tag along, she applied for leave, her kids asked for chocolate – and voila, just like that, we are all set to go to to Europe!
So where are we going? Spain, Portugal, France, Belgium, and Andorra? Andorra – what's that you ask? Yes, it's a small country in Europe, and no, it's not part of Schengan, but more on that later. So we start in Portugal, move to Spain, then Andorra, spend lots of time in France, and finally end the trip in Belgium. It goes without saying that I am very, very, and very excited. And yet, I also have to admit that these were not my first choice of countries. My last two trips were to somewhat offbeat locations like Eastern Europe and Jordan (yes, I know – not very offbeat, but that's why I used the adjective "somewhat offbeat":) ), and I had wanted to continue in the same vein. With all the arrogance of a well traveled tourist, I felt that I needed to go "different" 🙂 My first choice was the Balkans – again, not very offbeat I agree – but definitely not as well organized or typical as Western Europe. The only problem? – well, the political situation in Bosnia is not the most stable, and all the countries I wanted to go were not part of Schengan, and visas would be a problem. The visa situation would be manageable, but honestly, I read about the mines in Bosnia, and well, I didn't want to be "that" different! So I have put those plans on hold. Bosnia – I do want really want to visit, and I promise I will come over, but after a while okay? The next choice was Scandinavia, and honestly, the only deterrent was cost. I had visited Norway a few years back and loved it. This time I wanted to go to Sweden and Finland; the photos were were breathtakingly beautiful, and the people seemed to be friendly…but..it was so horrendously expensive. Even considering living in hostels (which I usually do not do), I was going way off-budget. Reluctantly, I set aside those plans too.
Europe was now looking to be an iffy prospect. Should I do that long pending New Zealand backpacking trip? Or do Japan and South Korea? Or visit my friend in Kenya and do an African safari, which has been on my bucket list for ages.

And then out of the blue, one of my ex-colleagues in Spain wrote me a mail – something to do with work, and business, and a whole lot of stuff I was really not very interested in. It was certainly not an invitation to Spain; it wasn't even anything to do with travel, but suddenly I remembered a long-forgotten project with a team in Spain, and the friends I had made, and how I used to listen to their descriptions of Spain, and make plans of visiting them and exploring the place, and partying through the night. The reality – I lost touch with all of them. Every single one of them. What can I say? I am bad at relationships.
But I digress.
So yes, I suddenly, I wanted to do Spain. I went online, and looked up Spain, and I knew that I wanted to do it. Oh not in terms of the landscape, or even the history – the closest I could say was that I wanted to see the lifestyle, as lame as that sounds! I wanted to do all the things my friends had suggested, I wanted to make new friends, I wanted to have afternoon naps, and have really early breakfasts (after long nights) of course!I wanted to see weddings in old churches, and dance to slow flowing music; I wanted to wear summer dresses and laugh with abandon and twirl around pretending that I had long cascading curls! I wanted to see churches but also experience faith. I wanted to get lost amidst the travelers, but I also feel wanted to feel like a local. I wanted to do Spain.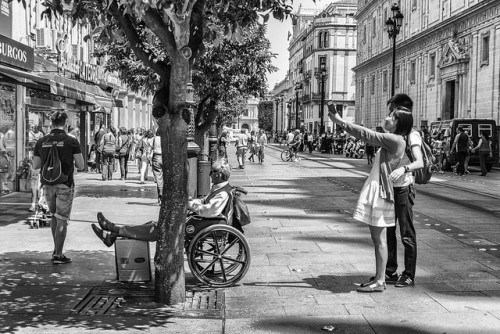 And the rest followed. Once I knew I was doing Spain, I checked Portugal as well, and I liked the vibe of the place. France was on R's suggestion – and it was a good one was well – I love the look of French wine country, and I am of course partial to the Alps! I would love to have spent more time in Belgium, but well, I gotta make do with the time I have!
And how can I forget Andorra? I knew that after a long stay in Spain and Portugal, I would want to visit the mountains.Just 3 hours away from Barcelona, I found what I was looking for – a small country with rugged mountains, lots of beautiful walks, and several lakes. Set in the Pyrenees mountain range, Andorra is more well-known for its tax-free shopping, but I am more excited about its mountain villages and beautiful scenery.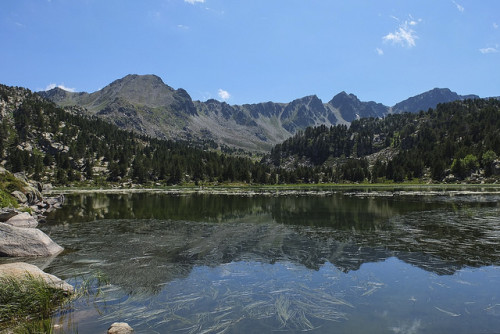 The point of this post?
None really! 🙂 Except to ponder about how the vaguest and most inconsequential events trigger a memory, or set forth a chain of events that you just had not planned for. I also couldn't help but wonder whether I carry with me an unbecoming arrogance that's characteristic of the jaded traveler. I concluded that wasn't true – for one, I haven't traveled all that much, and second I was being way too melodramatic 🙂 But I do introspect. I hadn't considered Western Europe, because it wasn't off-beat enough; because it was so well-organized, and so..what everybody does. In some weird, small corner of my mind, I wanted to be away ..and be different from what everybody did, now that I was the Reluctant Traveler.
And I realize that takes away the sheen of travel. At least for me. While I do want to experience new things, and discover new worlds, I do want to lose my ego and all the baggage that comes along with it. On most days when I travel, I am humbled at how much I am yet to learn, and I am surprised at how confident and brave I feel in these unknown worlds. So yes, I want to keep that ego at bay – and discover the things I want to do – and then do them with abandon!
So there – it's an European summer! and a mighty beautiful one at that! Let the adventures begin!